Projects
Pattaya Orphanage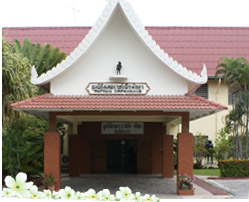 The Pattaya Orphanage was founded in the early 1970's by Bishop Lawrence Thienchai Samanchit of the Diocese of Chanthaburi , Fr. Ray Brennan C.Ss.R. and a group of Vietnam War Veterans from USA.From those humble beginnings, the Orphanage is now home to over 200 babies, toddlers, and school age children as well as college and university students.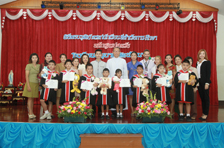 Deafness is the one disability that affects the largest number of Thai children. The School for Deaf Children was founded after a young deaf boy came to live at the Pattaya Orphanage and there was no school for him to go to.
Our School provides the children with the pre-school education that they will need to enter a mainstream government-run school for deaf children. Since the school opened in 1983, more than 260 deaf students have graduated.
You can help to keep the smiles on their faces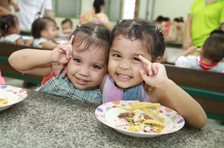 Account Name: Pattaya Orphanage
Name of Bank: Bangkok Bank Ltd.
Branch: Banglamung
Savings A/C No.: 342-0-96666-9
Swift Code: BKKBTHBK
Telephone : +66 (0) 3842 3468, (0) 3841 6426
Email Address : info@thepattayaorphanage.org
You can help to keep the smiles on their faces
-Visit us and show the children and staff that there are people who care.
-Let others know about our efforts and what can be done by concerned people.
-Make a monetary contribution for the children's upkeep and education.
-Donate useful articles in good condition that will help better the children's lives (in Thailand only).
-Work as a volunteer.
-Sponsor a meal, or make a donation of food.
-Sponsor a child, and make them feel part of your family.
Where do the children come from?
The Orphanage accepts babies and children under six years old from families who can not take care of them. There are many reasons why parents or families leave their children with us.
Thailand does not have the same level of social service that are available in Europe and North America, so if the parents of a new born baby have no money to care for the baby , or a mother has no family support, or has a job that does not allow her to have her baby with her, then we will take care of the child.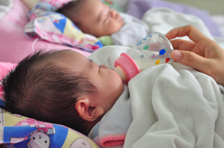 Baby rooms
At any one time there are over 60 babies and toddlers living in one of three baby rooms. Two full-time nurse, and carers take care of them on a day-to-day basis as well as providing the necessary vaccinations. OnSaturdays, a Consultant Paediatrician visits the children to ensure that they remain healthy. From ages 3-4, our young ones recieve pre-school education within the Orphanage. They have classes in computers, Thai reading and writing, and crafts.
After three years in kindergarten, it is time for the children to go to school. The first few days of school outside the Orphanage can be a very unsetting time for the children but with so many older' brothers' and sisters' to look after them, they soon start to enjoy attending classes. Each group of children is taken care of by a "house parent", who also happens to be a qualified teacher.
They make sure that all the children do their homework every evening. During school holidays, the children receive extra computer classes and English classes taught by native-speaking volunteers. After Junior School, all children go on to High School.
They have the option to either enter vocational school ro university. We are very proud of all our children, and even more so when they graduate with a university degree.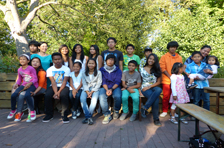 Adoption
Since we were first allowed to have our children adopted, several hundred babies and toddlers have left Thailand to start new lives with new families. The majority of our children go on to live in Germany and Denmark, with a few going to live in France, Italy and Switzerland. The process of adoption is a long one, and can take several years before an applicant is accepted and they are eventually allowed to come and pick up their child. People often ask us why the process for adoption is so long, but our answer is that these are our children, and we want to make sure that our children go to the right families.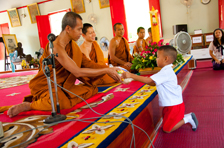 Religion
The Orphanage is managed by the Roman Catholic priests of the Diocese of Chanthaburi, and on a day-to-day basis the Orphanage is run by the Sisters of the lover of the Cross of Chanthaburi. The majority of Thais are Buddhists, and our children remain Buddhists. We do not try to convert them to Catholicism, but we do try to teach them to become good citizens.
Home
The Orphanage is the only home the children know, and it remains their home for as long as they need it. If we accept a newborn baby and ask them to leave before they have finished their education, or before they are ready to leave, then we have failed to prepare the children to live as worthwhile members of society